The Eu-Ru BiBag Infusion bag-Set is a safe and simple infusion basis for the preparation of a mixed infusion (Base infusion).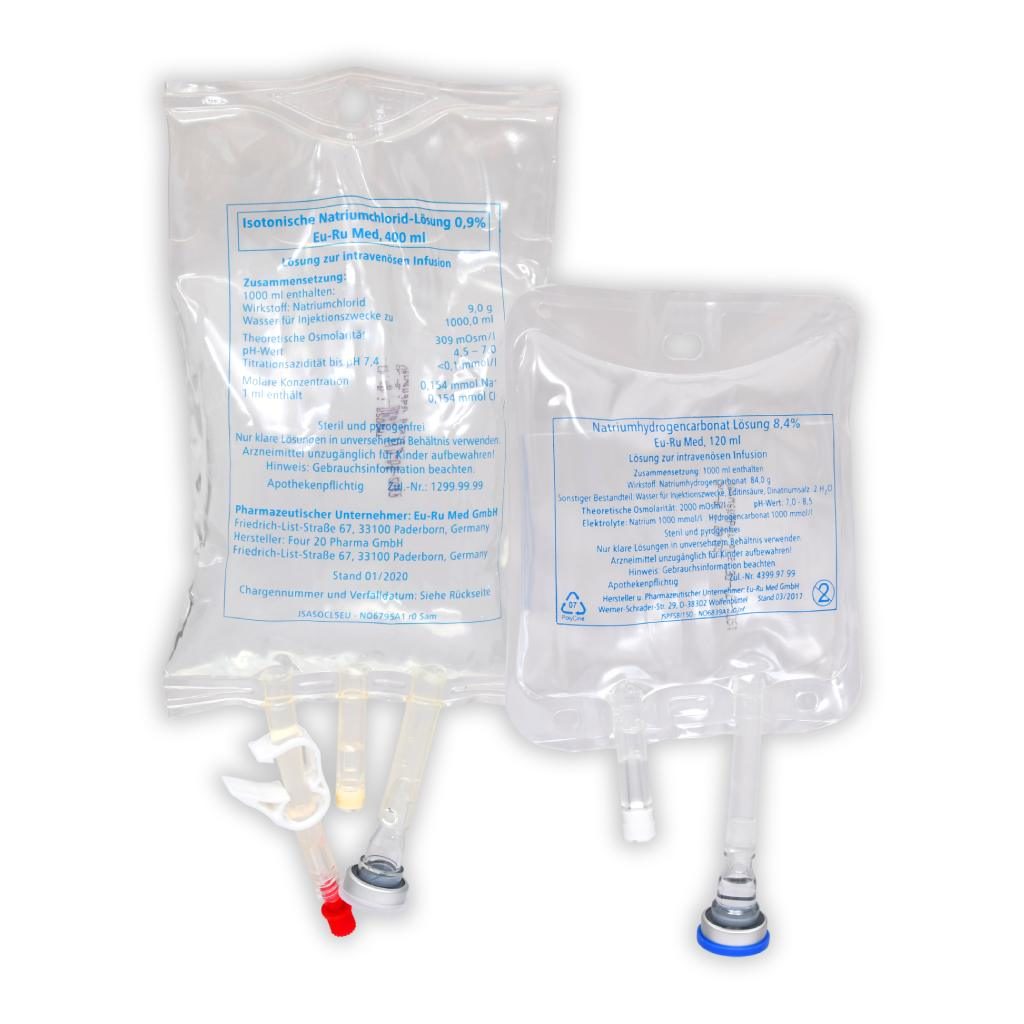 We are the first supplier of 8.4% sodium hydrogen carbonate solution in an infusion bag.
It is not possible to fill and store an alkaline solution such as sodium bicarbonate in standard PVC bags or plastic bottles. A film that is resistant to concentrations >pH 7 with a special "overpouching" is required for this. This "Overpouching" guarantees documented stability data, drug concentration and drug safety and excludes an interaction between content and wall material.
400 ml Isotonic Sodium chloride solution 0.9% Eu-Ru Med
120 ml Sodium bicarbonate solution 8.4% Eu-Ru Med
Composition::
1000 ml contain 9.0 g sodium chloride, water for injections
Area of use:
Carrier solution for remedies, short-term intravascular volume replacement
Contraindication:
Alkalosis, Hypokalaemia
Composition:
1000ml contain 84.0 g sodium bicarbonate, water for injections
Area of use:
Correction of metabolic acidosis
Contraindication:
Alkalosis, Hypokalaemia
Optimization of the hygienic and safety related aspects through the coordinated application technology
Connection and handling sterile, because of a "closed circuit"
Less risk of contamination
Infusion bag film with stability data and approved for concentrations >pH 7 and alkaline substances (NaHCO3-solution 8.4%)
Simplification of a mixing procedure without a transfer- "device" and/or syringe support you in the implementation of your hygiene guidelines
Time saving (for the therapist and staff)
Puncture plugs in the large bag: Isotonic sodium chloride solution for the addition of local anesthetics (e.g. procaine, preservation-free for the production of a procaine base infusion) as well as possible additional vital substances
Less weight
No risk of breakage of glass bottles
Less disposal volume
All you need to do is order Eu-Ru Bibag or Infusion bag-Set
The two finished medicinal products must/should be named on a prescription (saves possible inquiries from private health inscurance companies)
400ml isotonic sodium chloride solution 0.9% Eu-Ru Med + 120ml sodium bicarbonate solution 8.4% Eu-Ru Med